Concert of Traditional Music – Cancellation of Performance
※This concert has been cancelled in order to prevent spread of the novel coronavirus. If you have purchased a ticket, it will be refunded. Please be sure to apply for a refund within the announced refund period.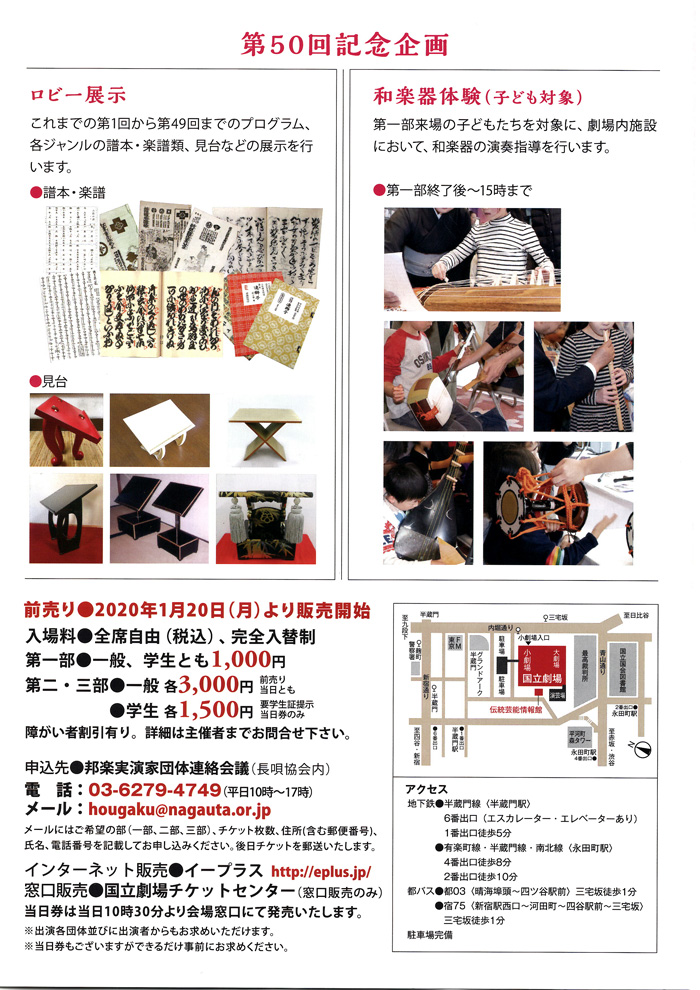 Sunday, March 29, 2020
3-parts:
Part 1:
doors open 10:30 a.m.; concert starts 11 a.m.
Part 2:
doors open 1:30 p.m.; concert starts 2 p.m.
Part 3:
doors open 5:30 p.m.; concert starts 6 p.m.
Shinnai Program:
in Part 2, starts after 4 p.m.:
Ichinotani Futabagunki: Kumiuchi
Shinnai Performers:
Tsuruga Wakasanojo, Shinnai Nakasaburo, Tsuruga Ise'ichiro
Place: Small Theatre at the National Theatre
Access: Hanzomon station on the Hanzomon line. 5 minutes' walk from exit 1. Exit 6 has an elevator and an escalator. Many signs in English point the way to the National Theatre.
Tickets: No reserved seats. Tax is included in the ticket prices.
Part 1: 1,000 yen
Parts 2 and 3: 3,000 yen for each part (students 1,500 yen for each part, sold only on the day of the performance)
Discount tickets are available for people with disabilities.
Tickets can be purchased at the Theatre starting at 10:30 a.m. on the day of the performance.
Advance ticket sales:
On line (in Japanese only) at http://eplus.jp/
By e-mail at hougaku@nagauta.or.jp. When ordering by e-mail, please indicate which part(s) of the concert you want to go to, how many tickets you want, your address (including your postal code), your name, and your telephone number. Tickets will be sent to you by postal mail.
For information, call (in Japanese) 03-6279-4749 (weekdays 10 a.m. to 5 p.m.)