Special Shinnai Performance at Okunitama Shrine Summer Plum Festival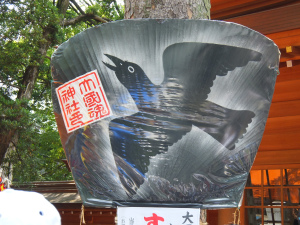 Date: Monday, July 20, 2015
Time: 6:00 p.m. Place: Okunitama Shrine, Fuchu
Access:
The shrine is 5 minutes' walk from either of the following stations:
Fuchu station, Keio line, Or
JR Fuchu Honmachi station, Nambu line
Fuchu station is approximately 25 minutes by train from Shinjuku station.
Fuchu Honmachi is approximately 45 minutes by train from Kawasaki.
Okunitama Shrine is an ancient historic shrine, said to have been founded in 111 A.D.
Every year, on July 20, the shrine holds a traditional summer festival, the Sumomo (plum) Festival. About 70,000 people are expected to participate.
Shinnai Performance:
Tsuruga Wakasanojo XI is the featured performer at this year's festival. His performance will start at 6 p.m.
Other Festival Events:
The festival will be held all day, starting at 8 a.m.
Special folding fans (sensu) and flat fans (uchiwa) with a crow pictured on them are available to those who attend that day from 6 a.m. until 9 p.m. Crows are believed to ward off evil.
A Shinto dance with music will be performed several times during the day.
There will be 120 street vendors selling plums as well as typical festival food. The street vendors will be open from 7 a.m. to 9 p.m.
Web page for this festival (in Japanese):
https://www.ookunitamajinja.or.jp/matsuri/sumomo.html
For further information, please contact the shrine office (in Japanese),
Tel: 042-362-2130
Okunitama Shrine
Miyamachi 3-1
Fuchu, Tokyo 〒183-0023