Traditional Japanese Culture Classroom for Parents and Children and Mini-Concert of Shinnai and Traditional Japanese Dance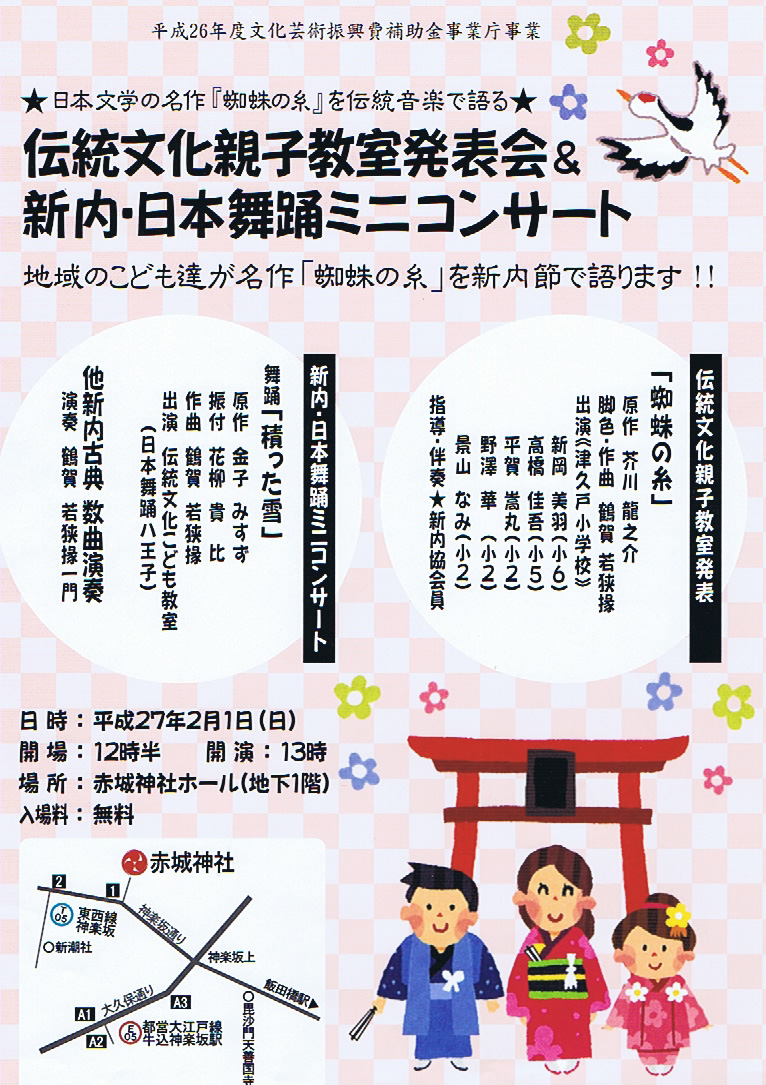 This program is designed to be attractive to children. Children—Bring your parents!
Date: Sunday, February 1, 2015
Doors open 12:30 p.m.
Performance starts 1 p.m.
Admission: Free; no reserved seats.
Place: B1F Hall, Akagi Shrine, Kagurazaka
Access: Akagi Shrine is about 1 minute from the Kagurazaka exit (exit 1) from the Kagurazaka station on the Tozai line. When you get to the street level from the station, turn left and, at the next corner (almost immediately), turn left again, and go down that small street. Akagi Jinja is directly ahead of you at the end of the street. Go up the stairs to the top level, and take the elevator down to B1F.
Program:
1.Traditional Culture Classroom for Parents and Children
Kumo no Ito (The Spider's Thread)
Shinnai setting by Tsuruga Wakasanojo of a famous short story by Akutagawa Ryunosuke
Performers: 5 elementary school pupils (2nd, 5th, and 6th grades) from Tsukudo Elementary School in Kagurazaka
2. Shinnai and Traditional Japanese Dance Mini-Concert
Tsumotta Yuki Shinnai setting by Tsuruga Wakasanojo of a well-known poem by Kaneko Misuzu, with choreography by Hanayagi Kihi
Dancers from the Traditional Culture Children's Classroom (Japanese Traditional Dance, Hachioji Classroom)
Other classical shinnai works will be performed by Wakasanojo's students