Fifth Concert by the Shinnai Wakagi Kai: Tsuruga Isekichi and Her Students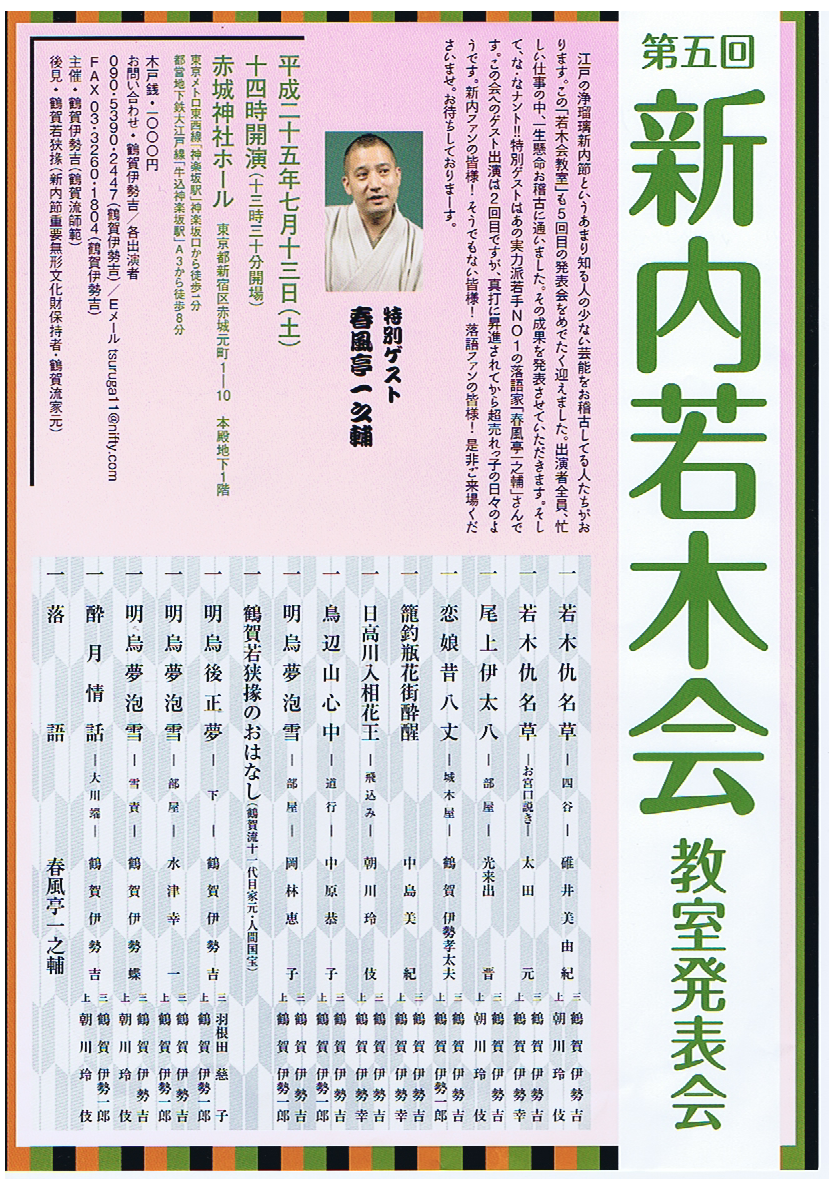 Although not many people are familiar with Edo period shinnai narrative song (joururi), some people are studying it even so. We are happy to present this concert, which is the fifth performance by students of the Shinnai Wakagi Kai Classroom. Even though all the performers are busy working people, they've practiced shinnai very hard. This performance will show you the results of their efforts.
And can you imagine!! The special guest is Shinpuu'tei Ichinosuke, a famous rakugo performer, who is No. 1 among young rakugo performers. Since he was promoted to shin'uchi, which is a top rank in rakugo, he has been much in demand as a performer. This is the second time that he has performed at a Wakagi Kai concert.
Shinnai fans! People who aren't shinnai fans! Rakugo fans! By all means, come to this event. We are waiting for you.
Date: July 13 (Saturday), 2013
Time: Doors open at 1:30 p.m.; concert starts at 2 p.m.
Place: B1 Floor, Sanshuden Building, Akagi Shrine, Kagurazaka
Access: 1 minute walk from the Kagurazaka exit (exit 1) of the Kagurazaka station on the Tozai line
Tickets (sold at the door): 1,000 yen
Seats are not reserved.
The program includes:
Comments by Tsuruga Wakasanojo XI (11th iemoto of the Tsuruga school of shinnai; Living National Treasure)
Special guest: Rakugo performer Shinpuu'tei Ichinosuke
For further information, please contact:
Tsuruga Isekichi
090-5390-2447
e-mail: tsuruga11@nifty.com
Fax: 03-3260-1804 (attention: Tsuruga Isekichi)