September 2, 2012, Yukata Kai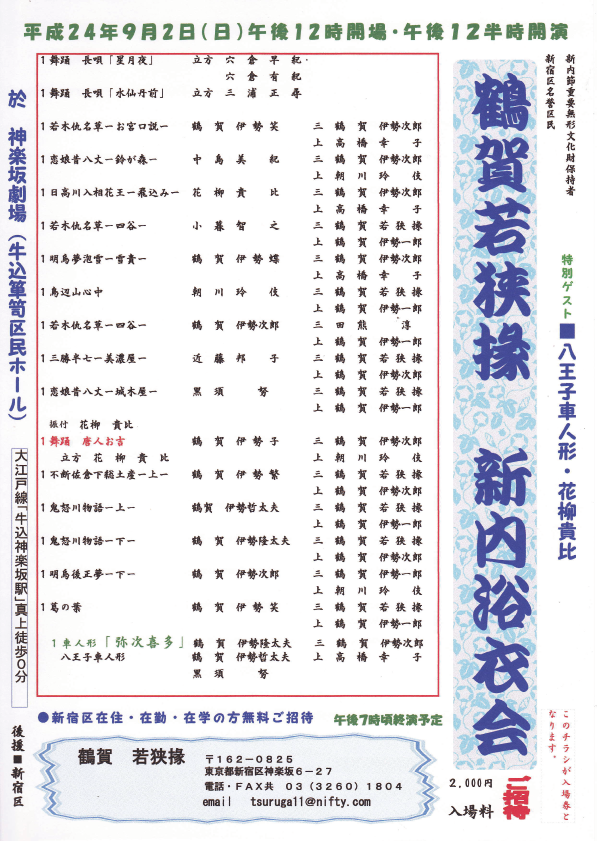 On September 2, Tsuruga Wakasanojo's students will be performing. They have been practicing hard, even during the summer when it has been terribly hot. They were not defeated by the high temperatures and humidity. I hope that the Edo Period atmosphere of their performance will help cool you off.
Special guests:
– Hachioji Kuruma Ningyo puppets
– Hanayagi Kihi (traditional Japanese dancer)
Date: September 2
Time: 12:30 p.m. to 7 p.m. (Doors open at noon.)
Place: Kagurazaka Theater (2nd floor of Ushigome Tansu Kumin Hall), in the Kagurazaka area of Tokyo.
Access: Take the Oedo line to Ushigome Kagurazaka station. When you exit from the ticket gates, turn right. At the street level, turn right again, and you will be next to the entrance of the building where the concert will be held.
Tickets: 2,000 yen.
Free admission to people who live, work, or are going to school in Shinjuku Ward.
Also, if you print and bring a copy of the flier on this page, you can get in for free.
Seats: No reserved seating.
Further details are in the flier.