Developing the Next Generation of Shinnai Professionals: A Concert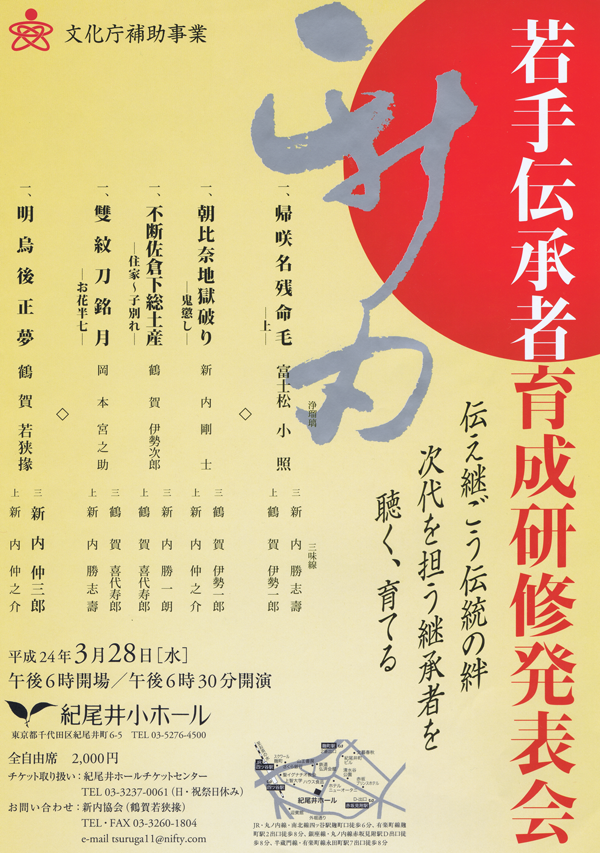 For passing our art on to the next generation, an important part of the training of new professionals is giving them opportunities to perform in front of an audience.
Joruri Performers:
Three new shinnai professionals, including Tsuruga Isejiro
Tsuruga Wakasanojo XI will also perform, accompanied by Shinnai Nakasaburo (Living National Treasure)
Program: 5 shinnai works
Date: Wednesday, March 28, 2012
Time: 6:30 p.m. (doors open 6 p.m.)
Place: Small Hall (5F) at Kioi Hall (across the street from the Hotel New Otani)
Tickets: 2,000 yen
Seats are not reserved.
Tickets can be purchased at the hall on the day of the event.
To purchase tickets in advance, contact Kioi Hall ticket center, 03-3237-0061 (closed Sundays and holidays)
For information, contact:
Shinnai Association (Tsuruga Wakasanojo XI)
Tel/fax: 03-3260-1804
e-mail: tsuruga11@nifty.com
This program is presented with cooperation from the Agency for Cultural Affairs.