Shinnai Concert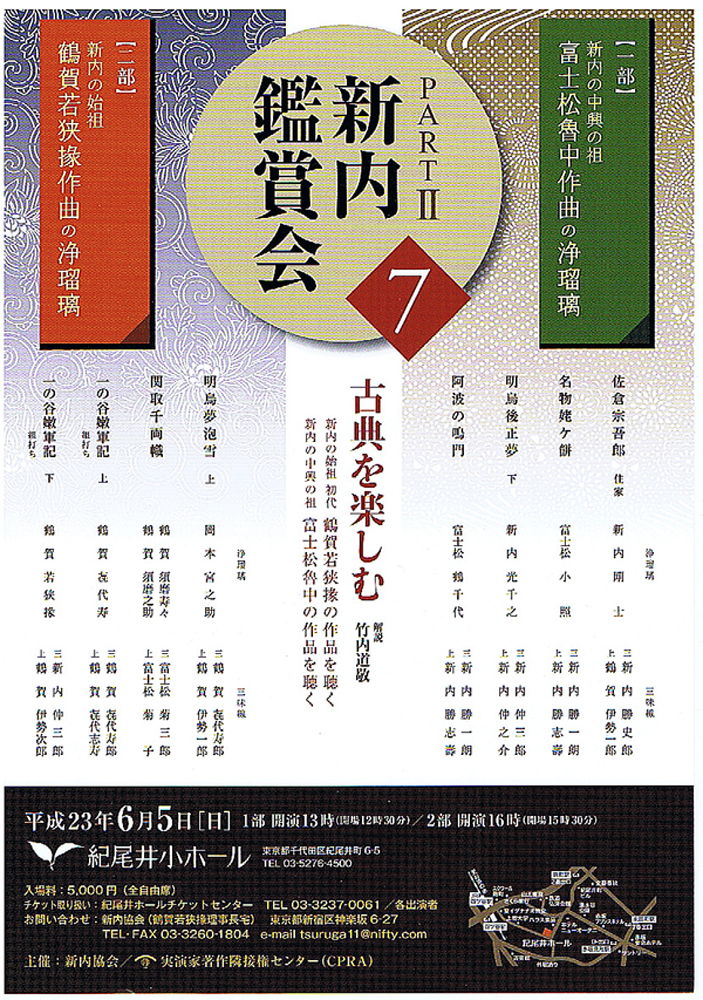 A concert of classical shinnai works by two of the most famous early shinnai joururi performers, Tsuruga Wakasanojo I and Fujimatsu Rochu, will be held on June 5.
The concert is in two parts. The works in Part I are by Fujimatsu Rochu, and in Part II, by Tsuruga Wakasanojo I.
The performers will be the iemoto of various schools of shinnai.
Tsuruga Wakasanojo XI will perform the final number in Part II, accompanied on the shamisen by Shinnai Nakasaburo (Living National Treasure) and Tsuruga Isejiro.
Date: Sunday, June 5, 2011
First part starts at 1 p.m. (doors open at 12:30 p.m.).
Second part starts at 4 p.m. (doors open at 3:30 p.m.).
Tickets are 5,000 yen.
Seats are not reserved.
Kioi Hall is across the street from the New Otani Hotel.
Tickets can be purchased at the hall on the day of the event.
To purchase tickets in advance, please contact the Kioi Hall ticket center, 03-3237-0061.
Inquiries to:
Shinnai Association, Tsuruga Wakasanojo XI, Chairman.
Tel/fax: 03-3260-1804
e-mail: tsuruga11@nifty.com