An Invitation to Take Shinnai Lessons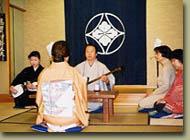 Why not try shinnai, Japanese traditional music that is an expression of the essence of Edo emotions? Those who love karaoke, those who are interested in classical Japanese music, those who dream of feeling the true Japanese character, those who would like to try the challenge of studying difficult-sounding traditional Japanese music… please try taking some shinnai lessons. Anyone will be able to perform shinnai joururi in a short time… for fun and for your health.
Contact
Tsuruga Wakasanojo XI
6-27 Kagurazaka, Shinjuku-ku, Tokyo 162-0825
Phone / Fax : 03-3260-1804
E-mail: <tsuruga11@nifty.com> <isekichi11@docomo.ne.jp>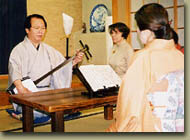 For a long time, the continuation of Japanese traditional entertainment has faced a critical period. As a step toward the future prosperity of the Japanese traditional performing arts, I have decided to have classes offered at my studio in three types of traditional arts.
The teachers' telephone numbers are listed below. How about taking some lessons?
You will gain a deeper appreciation of these arts than when you are just in the audience.
¶ Tsuruga Wakasanojo XI Kagurazaka Japanese Traditional Arts Classrooms
Place: Tsuruga Wakasanojo's studio
6-27 Kagurazaka, Shinjuku-ku, Tokyo 162-0825
Contact the individual teachers by telephone for more details.
If possible, have someone who can speak Japanese help you with the telephone call.
¶ Mochizuki Bokusei V, Hayashi (traditional Japanese percussion): 090-9671-7671
¶ Hanayagi Kihi, Japanese traditional dance: 090-4367-7000
¶ Tsuruga Isekichi, Shinnai Wakagikai (shamisen, joururi): 090-5390-2447