An Evening of Traditional Japanese Entertainment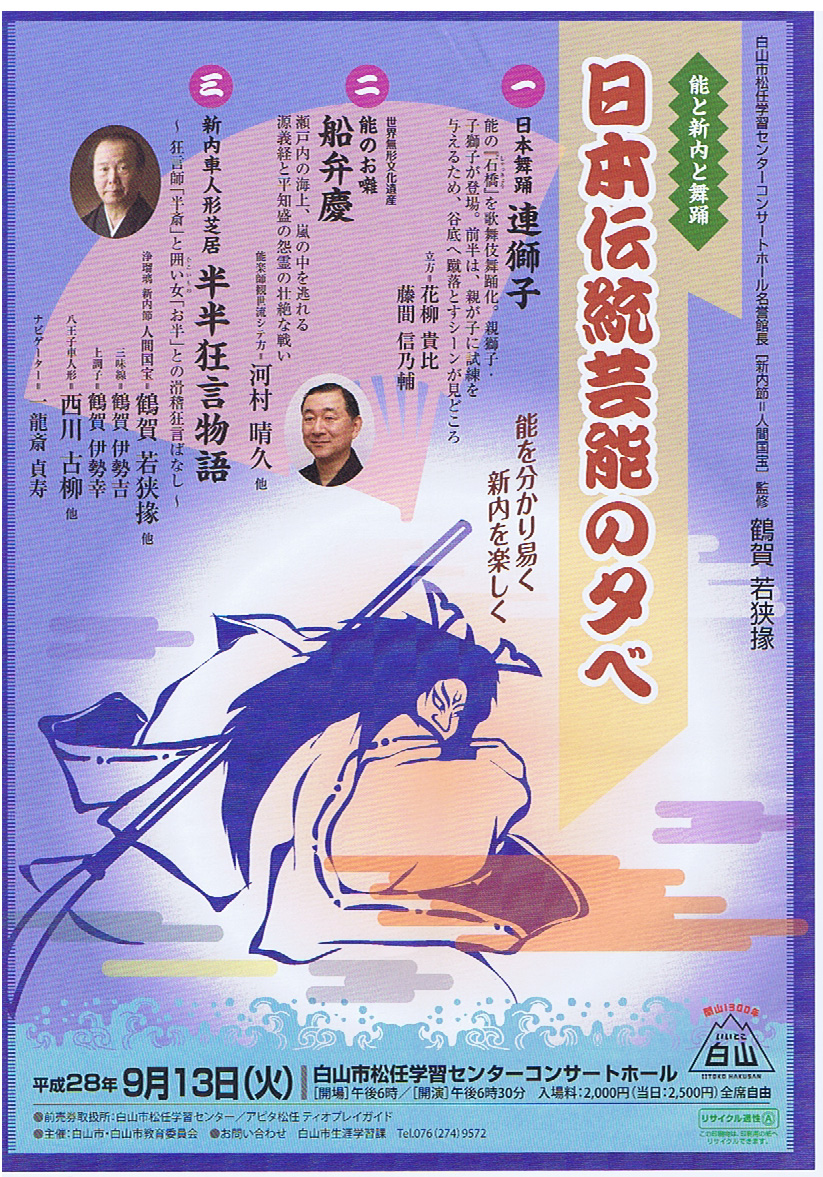 Noh, Shinnai, and Traditional Japanese Dance
Featuring easy-to-understand Noh and enjoyable shinnai
Date: Tuesday, September 13, 2016
Place: Matto Learning Center Concert Hall, Hakusan, Ishikawa Prefecture
Time: Doors open 6 p.m.; performance starts 6:30 p.m.
Tickets: Advance sale, 2,000 yen; day of performance, 2,500 yen (No reserved seats).
Program:
I. Renjishi: performed by Japanese traditional dancers
Performers: Hanayagi Kihi, Fujima Shinnosuke
This dance is based on Shakkyo, the kabuki version of a famous Noh play, in which a lion gives harsh training to his male pup, in order to toughen him.
II. Funa Benkei, performed in the Noh style.
Performers: Kawamura Haruhisa and others
This famous tale appears in both the kabuki and Noh repertoires. Minamoto Yoshitsune, fleeing, takes a boat on the Seto Inland Sea. When he encounters the ghost of his enemy, Taira General Tomomori, they have a fierce fight.
III. Han Han Kyogen Monogatari: a shinnai story with puppets
Performers: Tsuruga Wakasanojo XI; Nishikawa Koryu, head of the Hachioji Kuruma Ningyo puppet troupe; and others
This humorous contemporary work in shinnai style tells about the adventures and misadventures of a kyogen performer Hansai and his mistress O-Han.
Producer: Tsuruga Wakasanojo
For further information, please call the Hakusan City Life-Long Learning Center
Tel: 076-274-9572