Tsuruga Wakasanojo Shinnai Recital – Heaven and Hell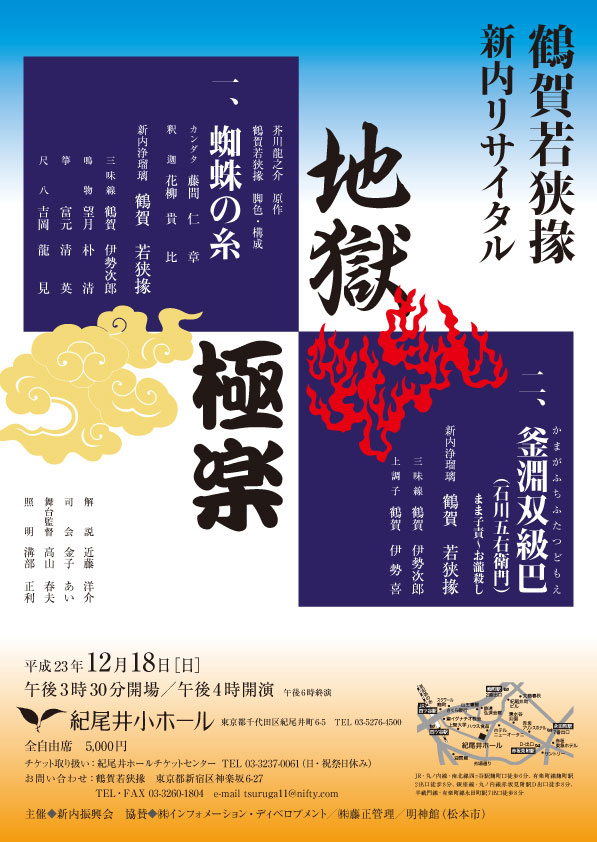 Tsuruga Wakasanojo Shinnai Recital
Heaven and Hell
Date: Sunday, December 18, 2011
Time: 4:00 p.m. (doors open 3:30)
Place: Kioi Hall (Across the street from the New Otani Hotel)
Tickets: 5,000 yen
Seats are not reserved.
Tickets can be purchased at the hall on the day of the event.
To purchase tickets in advance, contact Kioi Hall ticket center, 03-3237-0061 (closed Sundays and holidays)
Program
First part:
Kumo no Ito
(The Spider's Thread)
Shinnai setting by Tsuruga Wakasanojo of a short story by Ryunosuke Akutagawa
Adaptation and production by Tsuruga Wakasanojo
Performers:
Dancers: Fujima Ninsho, Hanayagi Kihi
Shinnai Joururi: Tsuruga Wakasanojo
Shamisen: Tsuruga Isejiro
Other performers: drums, Japanese flute, shakuhachi
Second part:
Kamaga Fuchi Futatsu Domo'e (Ishikawa Goemon)
Shinnai setting of a well-known tale about Ishikawa Goemon, a legendary 16th century outlaw hero.
Performers:
Shinnai Joururi: Tsuruga Wakasanojo
Shamisen: Tsuruga Isejiro, Tsuruga Iseki
For information, contact:
Tsuruga Wakasanojo XI
Tel/fax: 03-3260-1804
e-mail: tsuruga11@nifty.com