The Second Shinjuku Traditional Performing Arts Festival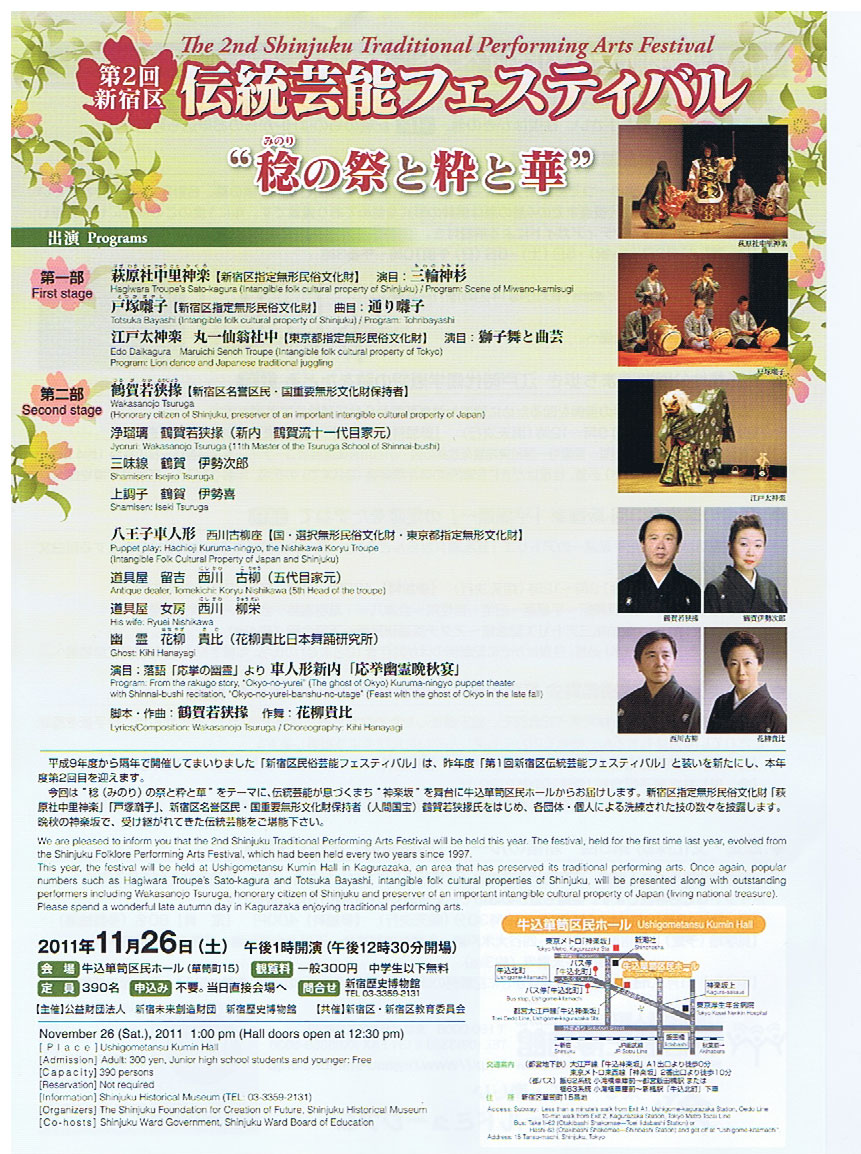 The Second Shinjuku Traditional Performing Arts Festival – Lively, Brilliant Harvest Festival
Date: Saturday, November 26, 2011
Time: 1:00 p.m. (doors open 12:30)
Place: Kagurazaka Theater (second floor of Ushigome Tansu Kumin Hall).
Access: 1 minute walk from Exit A1 of the Ushigome Kagurazaka station on the Oedo line. When you exit from the ticket gates, turn right. At the street level, turn right, and you will be next to the entrance of the building where the concert will be held.
Tickets (sold at the door):
Regular admission: 300 yen
Junior high school students and younger: Free
Seats are not reserved.
Program
First part:
* Scene of Miwano Kamisugi
Performers: Hagiwara Troupe's Sato Kagura (Intangible folk cultural property of Shinjuku-ku)
* Tori Bayashi
Performers: Totsuka Bayashi (Intangible folk cultural property of Shinjuku-ku)
* Lion Dance and Japanese Traditional Juggling
Performers: Edo Daikagura, Maruichi Seno Troupe
Second part:
* Okyo no Yurei Banshu no Utage (A Late Autumn Party with the Ghost of Okyo)
Shinnai composition and lyrics (based on a rakugo story): Tsuruga Wakasanojo
Choreography: Hanayagi Kihi
Performers:
Joururi: Tsuruga Wakasanojo XI
Shamisen: Tsuruga Isejiro, Tsuruga Iseki
Puppetry: Hachioji Kuruma Ningyo Troupe: Nishikawa Koryu V and others
Dance: Hanayagi Kihi
For information, contact:
Shinjuku Historical Museum
Tel: 03-3359-2131
Fax: 03-3359-5036
Web page (in Japanese): http://www.regasu-shinjuku.or.jp/?p=7224